NEWS...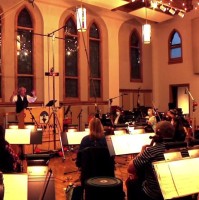 Posted Date: May 24 2021
1) "The Braes of Kintallen" (MacColl-Flauding) was given it's live premiere by the Texas Chamber Symphony.
Director Shannon Small wrote "100% standing ovation!...your piece brought tears to my eyes. those pieces are always the best; stirring deep into your heart and soul!!!"
2) The Bucharest Strings (Bucharest All-Star Orchestra) recorded two arrangements Ric composed for Nuevo Flamenco Guitarist Russ Hewitt. Ric produced the sessions as the Artistic Director for The Bucharest orch.
More to come with this great ensemble. The tracks will be mixed here in the states with video coming.
3) Ric also recently returned from Nashville where he conducted six string arrangements composed for singer-songwriter Bill Mullin. The strings were recorded at Ocean Way Studios. We will be returning to record more songs.
Bill's songs are very moving!
4) Ric is currently composing three string quartet arrangements for Jazz Basssist Jimmy Rojas, produced by Joey Arreguin. These tracks will be recorded in S. Calif.
5) J.W. Pepper featured two of Ric's pieces (orchestra & choir) in a webinar on improving your audio.
6) "Group Dynamics" (Flauding-Baker) for jazz big band was chosen by J.W. Pepper as an "Editors Choice".